Your First Visit To Bassett Family Chiropractic
Welcome To Bassett Family Chiropractic!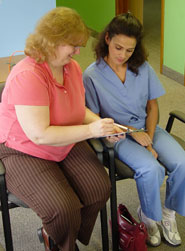 You'll be warmly welcomed and made to feel at home. Help is on its way!
Our first visit is made to make you feel comfortable. We start with a comprehensive tour of our office so that you feel at ease with the office. Next, the staff will go over the paperwork with you and answer any questions you may have about the paperwork. Third, the doctor will come in the room and go over the case history in detail with you so we can gather all the information we will need for your case. Next, we do an extensive chiropractic examination followed by full spine x-rays. This visit usually takes no more than 45 minutes.
If you've already completed your admitting paperwork, great! If not, after doing so you'll meet Dr. Mark or Dr. Krista for a short consultation.
We'll Explain Everything
The purpose of your consultation with the doctor is to discuss your health goals and see if chiropractic is likely to help you. If it looks promising, a thorough examination will help identify the cause of your problem.
Our patients appreciate that we explain everything in advance!
Contact Bassett Family Chiropractic now to schedule an appointment or learn about what to expect on your second visit with Bassett Family Chiropractic.
CONTACT US

---
Bassett Family Chiropractic | (586) 323-7901